Durham University Collegiate Communities – Property Week Awards 2020
Client
Interserve Construction/Durham University
Durham University – Collegiate Communities – Property Week Awards 2020
We are delighted that the Mount Oswald project at Durham University has been nominated for next week's Property Week Student Accommodation Awards in the University Halls of Residence of the Year category.  The scheme was delivered on time and to budget in very challenging circumstances and is now fully occupied.  A fantastic team effort by all involved.
The scheme delivers two new colleges (John Snow and South College), each accommodating 500 students centred around a college heart building.  A dining hall for 300 covers with shared amenity space, serves both colleges and the wider University.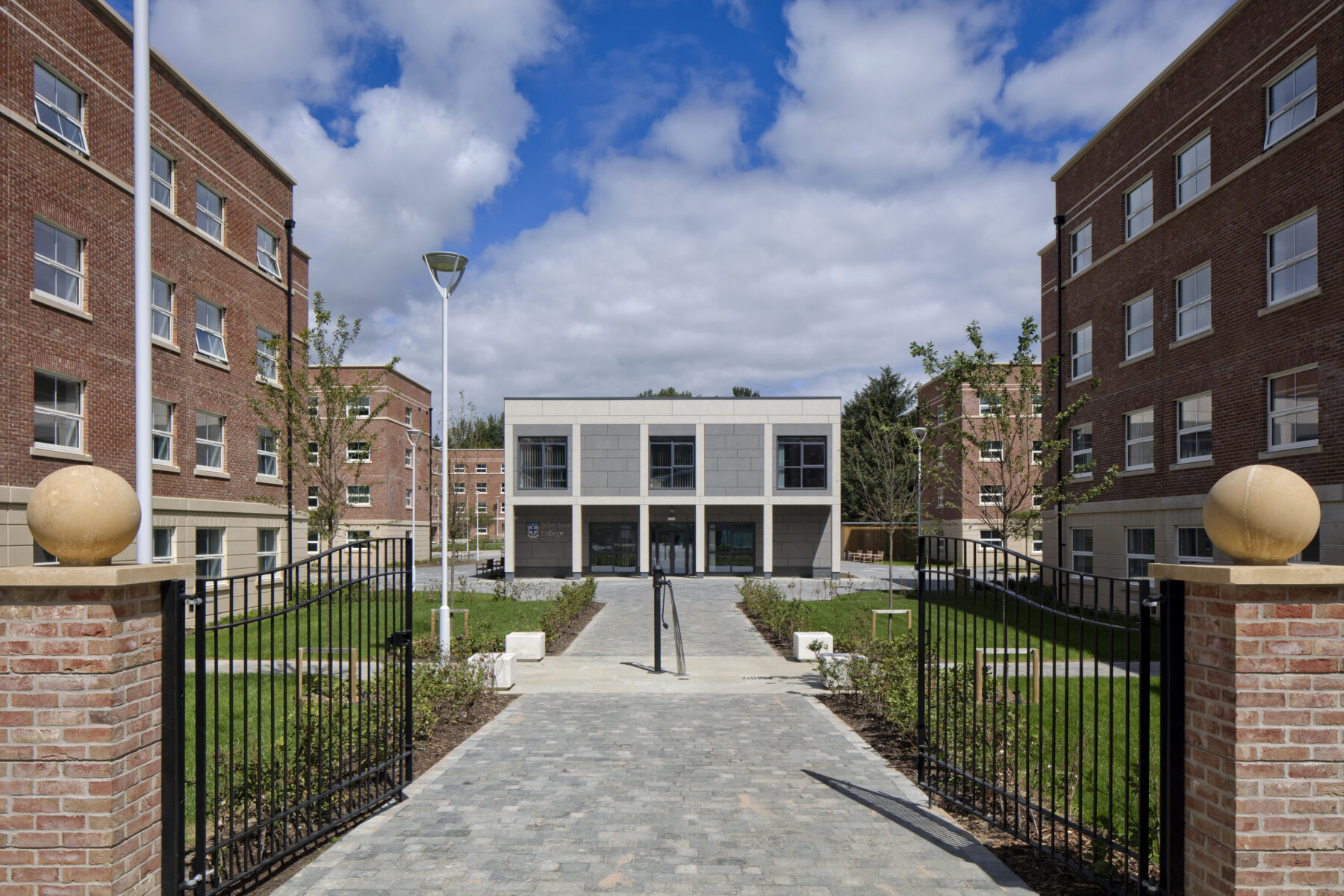 Working on the design of the project was fascinating. It was apparent from all of our encounters with students, that the Durham collegiate structure leads to very high levels of engagement. The college offers a social structure that sits between the residential unit and the university; providing a sense of community and belonging. Student events are organised and run by the student officers of college junior common rooms (JCRs). This makes the programme of events democratic, flexible and relevant. Friendly rivalry between colleges motivates improvements and strengthens allegiances.
Colleges are safe spaces to try new things, to challenge yourself and to transform. They are the places where lifelong friendships begin and new passions are found. Your College community will shape your university experience and stay with you for life.
The creation of student communities has been central to Willmore Iles Architects approach to designing student accommodation and this project has allowed us to employ a full range of approaches to maximise the benefits of the collegiate way of life. Working with college representatives and members of the JCR's, the colleges were designed with very distinct characters. Site layouts, façade treatments, landscape, materials, colour schemes and signage are all unique to each college. Working with Jasper Sanders + Partners a unique interiors palette was developed for the colleges, similarly DP Landscape Architects created two very different courtyard treatments. The differentiation in the design of the college hearts was very important – and we are delighted with the results. The project meets the informal brief to: "create two colleges that are very different but equally splendid".
The project will now come alive as the colleges occupy their spaces. Professor Tim Luckhurst, Principal of South College, has the unique opportunity of shaping the character of a new college, and we look forward to seeing his ambitious plans materialise. Professor Carolyn Summerbell, Principal of John Snow, has moved the college from Stockton Campus to Durham and now finally to Mount Oswald. We wish the college best of luck in their new home. We will be meeting the officers and students of the junior common rooms to get feedback on the colleges in operation.
The project has been a fantastic opportunity to learn about a unique way of delivering an exceptional student experience, and we will take the lessons learnt into future projects.