Passivhaus Case Study – West Park, University of Exeter
Designing Passivhaus at scale. How Student Accommodation can start to tackle the climate crisis head on.
The University of Exeter is undertaking an ambitious project called the West Park Scheme, which involves building student accommodation to Passivhaus standards. Willmore Iles Architects have been working with the University on this project since 2019, and the development will comprise of over 2000 undergraduate student rooms built to Passivhaus standards.
The Passivhaus methodology is being promoted to guide future building projects at the University as part of their sustainability design guide. Passivhaus principles focus on occupant comfort and low energy use, making it a good fit for the University's aspirations. The site for the development is highly constrained and includes steep slopes and flanking residential dwellings. The project is expected to start on site in 2024.
University estates are uniquely placed to deliver decarbonisation through their construction activities. As owners of large and complex estates they face challenges and opportunities in the journey to achieving net zero carbon.
Globally, 80% of students want their institution to do more on environment issues.
1 in 10 responses to the Times Higher Education survey stated that the "reputation and commitment to sustainability" of a university is the most important factor for them in deciding where to study
As of May 2021, 37 Universities have formally declared a Climate Emergency
HESA (The Higher Education Statistics Agency)already collects UK-wide data on the HE sector's environmental performance in its Estates Management record (EMR). This dataset includes comprehensive data on emissions from energy generation and use, and some indirect emissions, where available. Universities, in an increasingly competitive market risk potential reputational damage if they fail to compare to their peers.
We are seeing that our clients and partners in the construction industry are now responding to the UK Government's legally binding target to be net-zero carbon by 2050. There has been a step change in recent years, and the industry now regards sustainable building design as a fundamental requirement, rather than a bolt on. Buildings are a significant culprit of carbon emissions – accountable for around 35% of total global energy consumption, and as Architects we have a moral obligation to design buildings that tackle this global issue head on.
At Willmore Iles, we work across the country delivering purpose-built student accommodation with Universities and their development partners. As sector specialists, we recognise that we need to provide solutions that are both sustainable and affordable and meet the often-rigorous demands required by universities to implement their zero carbon strategies.
Higher Education Institutions are in a unique position to take the lead on the path toward zero carbon. Due to the nature of the sector, the buildings that we are designing are retained for long term concessions and therefore the operators recognise not only the immediate environmental benefits to low energy design, but also the long-term financial benefits across their operation.
Most Universities have a complicated estate, with a variety of different building types and ages, often including buildings that are designated heritage assets. HE institutions expect their development partners to work with them in achieving their carbon targets, and we find they often see new build projects as an opportunity to exceed targets to balance the poor performance of older buildings within the estate. In addition, as HE Estates look to extend their stocks useful life and operational costs, we are seeing more deep retrofit schemes coming to market.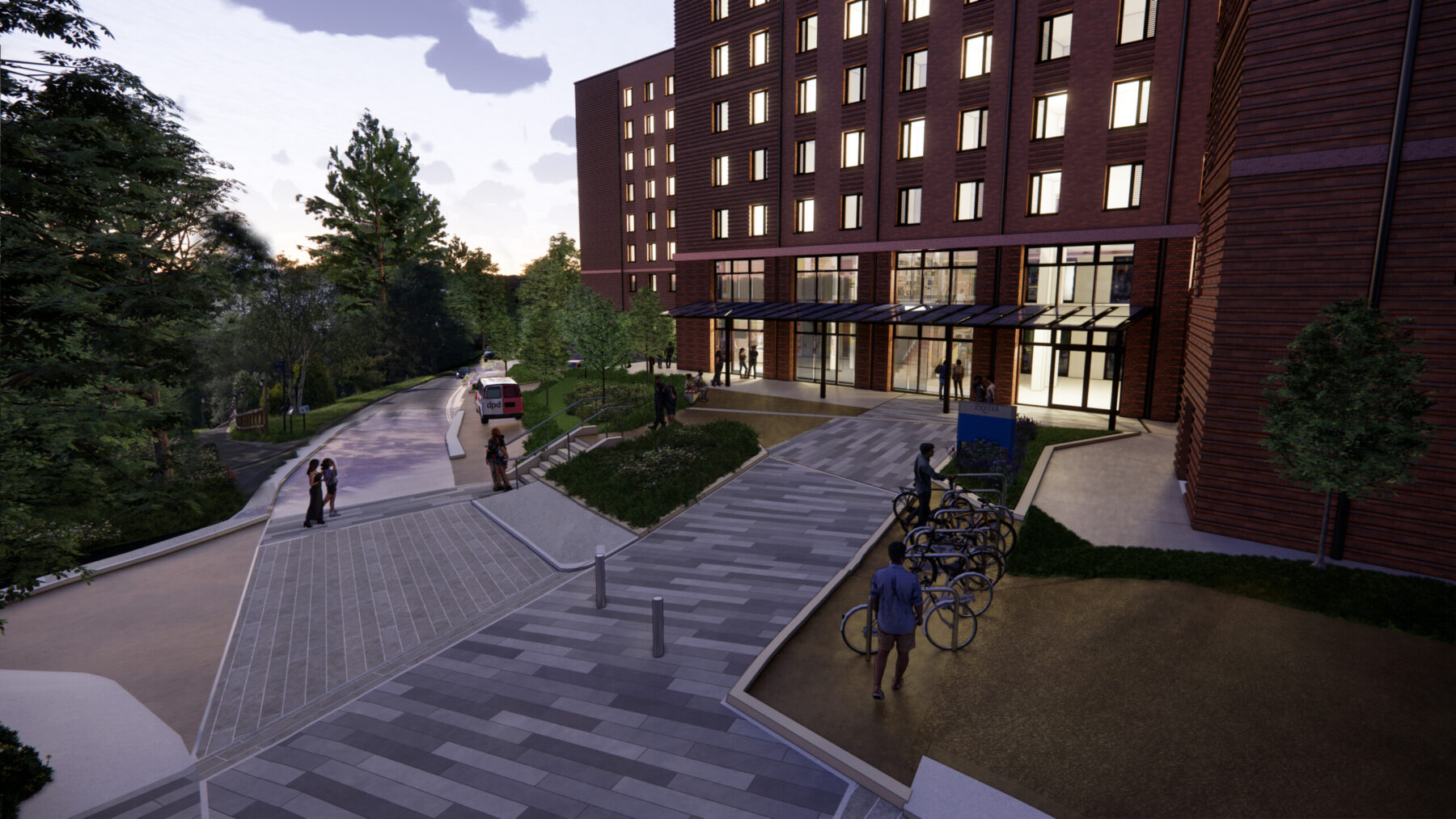 The West Park Scheme, University of Exeter
Since 2019, we have been working with the University of Exeter on their ambitious West Park project. This is a large student residential development on their Streatham Campus, housing over 2000undergraduate students. It comprises of circa 50,000m² of new build accommodation built to Passivhaus standards. The wider scheme also involves the deep EnerPHit retrofit of an existing early 2000's residential block and the relocation of the University's grounds compound to a new purpose-built facility on the campus. Due to start on site in the summer of 2024 the scheme will be delivered in phases with Phase 1 becoming operational in 2026.
In addition to the challenges of delivering Passivhaus, the site is highly constrained. The site is steeply sloping with a gradient of up to 1 in 6 in places. It is flanked to the north and south by private residential dwellings, to the west by an internationally recognised pinetum and to the east by further university residential buildings.
Willmore Iles Architects involvement in the project goes back to 2019 when the University commissioned the practice to deliver an outline approval in support of their Strategy 2030.While developing the early concept of the scheme, the University published their Environment and Climate Emergency Working Group White Paper. This set the strategy and targets for reductions in Scope 1,2 and 3emissions. The University Estates Team responded to the White Paper with a Sustainability Design Guide which elected to promote the Passivhaus methodology to guide its projects. The Sustainability Design Guide defines the targets, benchmarks, and the metrics to be used to prove compliance with their requirements for all future building projects.
Why Passivhaus?
Willmore Iles Architects have been working with the largest providers of on-campus accommodation in the sector for over 25years. We understand the sector intimately and pride ourselves on applying our specialist knowledge to deliver great buildings that function well for students and operators. We work with our partners to deliver fundable schemes and are sensitive to how seemingly small changes can impact on viability due to the sensitivity of the financial models used. In this respect, we see ourselves as pragmatic in our approach.
The University targeted an outline approval that gave them flexibility, so that they could take the detailed design to the market and attract competitive tenders. They also, along with the Local Authority, wanted assertions that the outline approval was capable of accommodating a scheme that would meet Passivhaus requirements. Our solution to this was to supplement the consortium with one of the UK's leading Passivhaus experts, Warm Consultants. This ensured we could rigorously and continuously evaluate our proposals at concept scheme. We quickly realised that Passivhaus is fundamentally about building better, rather than differently.
At its core, Passivhaus is a simple concept based on two fundamental underlying principles: The comfort and wellbeing of occupants, and low energy use in operation. It is a great fit with the aspirations of our University and developer clients.
Occupant comfort is a result of good internal conditions. In designing a Passivhaus building, we are creating an environment that has excellent air quality, is free from drafts and maintains a consistent temperature. This leads to less chance of mould growth, and studies show that occupants "feel" healthier. To meet the stringent energy targets set by the Passivhaus institute, we first need to reduce the need for Energy. Once we are satisfied we have reduced energy use as much as we can, we ensure we use it as efficiently as possible and recover what we can. Passivhaus buildings are thermally efficient, airtight and use mechanical ventilation with heat recovery. They are also designed to consider energy consumption of both regulated and unregulated energy, which reduces chances of a performance gap once constructed. Buildings that comply with building regulations at design stage use less stringent thermal modelling, and therefore often do not perform as well in operation. Our experience from post occupancy evaluations is that there can be a significant performance gap between modelled and built solutions.
Building to Passivhaus standards need not be a step change for the industry. In our view, it is building to already established principles. We use physics to understand where heat loss and air leakage occurs, design these issues out where possible, and measure them where they cannot be omitted entirely to ensure their impact can be mitigated.
For this project the specific design challenges included optimising building orientation on a steeply sloping topography, ensuring there was equity and affordability for students wherever their room was located and meeting the planning authority's aspirations for this major site.
With detailed thermal modelling, our team were able to combine three key principles to develop an optimum solution for the site layout. First, we targeted a low overall heat loss form factor of the buildings (the ratio of thermal envelope surface area to the treated floor area). The form factor is related to the thickness of insulation required to thermally envelope the building. Next, we looked at orientation and fenestration. We modelled varying sizes, shapes and depths within the reveal for the typical bedroom window at different orientations (from due West to within around 22° of due South) to understand what impact that would have on energy consumption and overheating.
We discovered that if we could target a maximum form factor of 1.6, and place approximately 80% of the windows within 22° of due north/south, using a consistently sized window configuration with a 200mm reveal, we could reduce the heating demand and the risk of overheating substantially. The evidence-based approach to Passivhaus targets set the narrative for the entire scheme and allowed us to present a compelling picture to the planning authority and other stakeholders.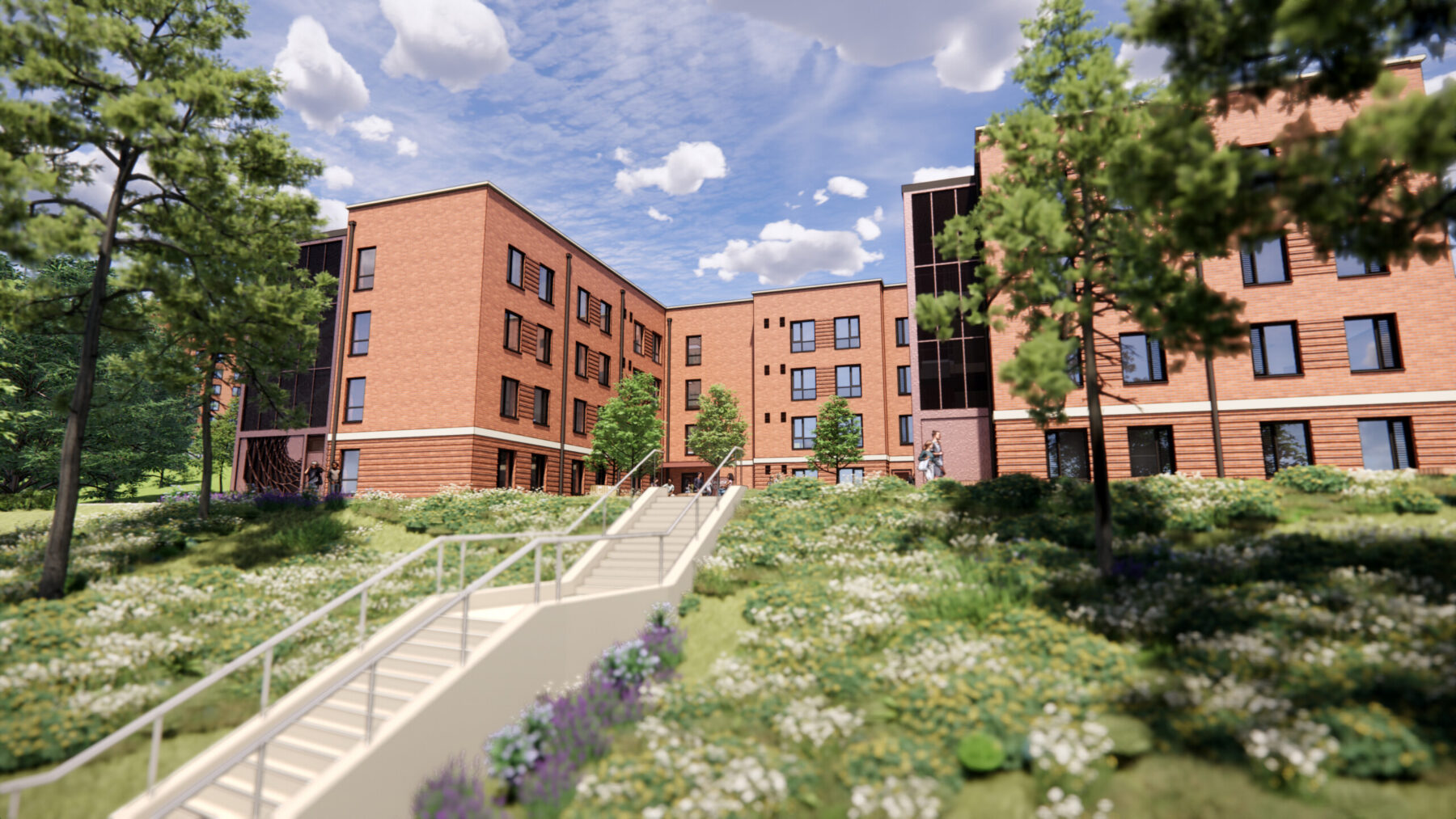 What next?
The scheme, delayed due to the Covid pandemic, was granted outline permission in 2021 and was successfully tendered in October2022. We are now working for the University's preferred development partner UPP on the detailed stages of the project prior to construction of the first of eight new build blocks starting in July of this year. A reserved matters application is currently being determined.
We have an excellent team of consultants drawing on a wealth of experience in Passivhaus, including Passivhaus designers Architype, MEP consultants Max Fordham and Structural and Civil Engineers Airey and Coles.
The current design, at RIBA Stage 4, has an average EUI (Energy Usage Intensity) of just 45.4 kWh/m²a, compared to the Russell Group median residential EUI of 198.8 kWh/m²a (based on HESA data). This is a 74% reduction in operational energy use.
Not only are these buildings collectively using less energy to function, but we are also generating 38% of that energy using renewable on site generation.
We believe that this Passivhaus scheme will set the standard for new build student accommodation, deliver a brilliant student experience, and make an invaluable contribution to Exeter University's journey towards net zero carbon.